WAGS Event History 2012
(Played on 9th January 2013)

| | | |
| --- | --- | --- |
| Team | Time | Players |
| 1 | 10.30 | G Glossop, G Hopkins & P Casey |
| 2 | 10.37 | P Hopkins, B Wright & D Clark |
| 3 | 10.45 | W Sealey, B Thomas & A Bishop |
| 4 | 10.52 | J Garratt, R Hirst & P Saunders |
| 5 | 10.59 | B Wills, C Stokes & C Groves |
| 6 | 11.06 | P Greatbach, F Linehan, B Rayfield & G Hawley |
| 7 | 11.13 | K Hibbitt, P Reynolds, N Wright & Crash |
| 8 | 11.20 | I Ashworth, J Weaver, P Rogers & S Crabtree |
| 9 | 11.28 | A McCann, A Jones, J Barrett & S Craker |
Two competitions; firstly the Farmer's Cup for those that have completed 6 rounds or more in the WAGS in 2012, at full club handicap, and secondly the normal weekly WAGS where 10%'s apply.

The usual Tote Betting will be available from 12th December and on the day.

Please search those attics, cellars, garages and wardrobes for your old golfing attire (that still fits!!) and wear it for this event. "Loud, but tasteful" is our motto. A reminder that a jacket and tie is needed for the meal please.

The WAGS website will be refreshed over the coming months and on the 19th December new "profile photographs" will be taken. So now is the time to make that appointment with your beauty consultant to ensure your hair (if you have some) is cut, your eyebrows plucked, nasal hair trimmed and a clean shaven fully moisturised face is available to the official photographer, Mr J Garratt.

---
WAGS Away Day, Redditch GC, Monday 15th October 2012, Draw
| | | | | | |
| --- | --- | --- | --- | --- | --- |
| Team | Time | Player A | Player B | Player C | Player D |
| 1 | 10.45 | D Foulkes | P Saunders | A Bishop | P Greatbach |
| 2 | 10.52 | Crash | R Page | G Bartlett | B Wright |
| 3 | 10.59 | I Ashworth | S Crabtree | W Sealey | B Wills |
| 4 | 11.06 | P Casey | J Barrett | A McCann | J Savage |
| 5 | 11.13 | S Craker | G Woodlands | P Reynolds | J Garratt |
| 6 | 11.20 | K Preater | T Oakes | S Alvis | J Carter |
| 7 | 11.27 | N Wright | C Groves | J Black | P Hopkins |
| 8 | 11.34 | K Hibbitt | M Phelps | T Mansfield | G Hawley |
---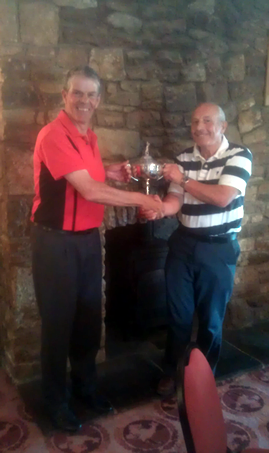 2012 winner Roy Hirst
Receives the cup from last years winner dave Foulkes


---
Wrag Barn v CE WAGS
Steve Griffiths & Ivor Whinney halved Kenny Hibbitt & Alan McCann
Scott Talbert & Hemant Patel won 1 up Keith Stokes & Ian Ashworth
Paul Merchant & Dave Hefferan won 6&5 Alan Taylor & Alan Jones
Dennis Knell & Ian Pearson won 6&5 Jim Weaver & Graham Shute
Dave McCrory & Andy Walsham won 3&2 Pete Saunder & Rich Clutterbuck
Geoff Porritt & Simon Cheung won 2&1 John Barrett & Stuart Crabtree
We were royally hosted by the team from Wrag Barn and our thanks go to them for a great day out.
For those that didn't attend and were wondering about the two 6&5 defeats, well the 13th green is next to the clubhouse and it was raining heavily!!
We look forward to the return friendly in 2013.


---
Pairs competition, 18th April 2012,
An anecdote
We were astonished! That Albert Bishop should just not turn up amazed us all. His now lonely playing partner Arthur did his best and stayed with Stuart and Colin until the 4th hole but at his age it was a fruitless task poor old chap. "He might have told someone the bastard"! Where is he? "Cornwall"!
It isn't that the Wags are vindictive but to let down your playing partner (or even drop sandwich crumbs) meets with serious reprisal. The air was blue as the once good name of Albert Bishop was keelhauled through the crap. "Are you sure he told no-one"? Asked Mr Mccann, the absolute bastard! I'll just check my phone to make sure.............Oh!
Draw
Time

Pair

Player A

Player B

11.30

1

K Hibbitt

&

G Glossop

2

I Ashworth

&

R Rayfield

11.38

3

J Barratt

&

J Weaver

4

N Wright

&

J Garrett

11.46

5

P Casey

&

A McCann

6

"Crash"

&

J Harding

11.54

7

K Hanson

&

P Greatbach

8

P Cason

&

A Jones

12.02

9

P Saunders

&

P Reynolds

10

K Stokes

&

P Rogers

12.10

11

G Bartlett

&

A Taylor

12

S Craker

&

F Linehan

12.18

13

A Spencer

&

A Bishop

14

S Crabtree

&

C Groves
Betterball format, full handicap stableford. £5 charge for all players, which does not include a drink afterwards. Cards must be marked, checked and signed correctly showing which player scored on each hole, if you haven't marked a betterball card, please seek guidance. A "birdie" pot of £1 (from the £5) will operate. Prizes for the top four pairs. 1st share 40% of remaining pot, 2nd 30%, 3rd 20% and 4th 10%. The winning pair may remain as partners (should they wish) to defend in the following year only; all others to be drawn.

---
WAGS Spring Away Day, Monday 26th March 2012
The Warwickshire, Leek Wootton, Results,
Individual 1st, Will Sealey 34pts; 2nd, Simon Craker 33pts; 3rd, Colin Stokes 31pts; 4th Jim Weaver 30pts and 5th Nick Wright 29pts.
Team 1st, "Crash", Ashworth, Oakes and Sealey 97pts.
Team 2nd, Saunders, Phelps, Black and Garrett 95pts.
Team 3rd, Hayward, Groves, Reynolds and Cullen 94pts.
Photos to be posted upon Greatbach's return from holiday (damned Inconvenient!!)
---